​
Decorative LED lighting
We were appointed by Derby City Council to specify, design and install low energy, remote controlled lighting for a new footbridge in Derby.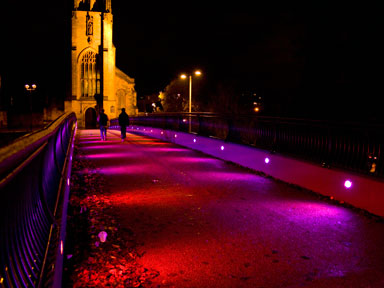 Low energy decorative bridge lighting
We researched and specified the most efficient LED lighting system available and developed a bespoke computer application which controls the lights from a low power computer positioned nearby. Each pair of lights can be controlled separately to give a versatile, perpetually changing pattern of coloured light over the bridge which can be adapted according to client requirements. We worked closely with the bridge designer, lighting manufacturers, steelwork fabricators and local authority to deliver a high quality installation.