​
Off grid PV installation
We installed a 4kW solar powered off-grid electrical system which supplies all of the electricity required by the three dwellings and a barn at the Ecological Land Cooperative Greenham Reach site.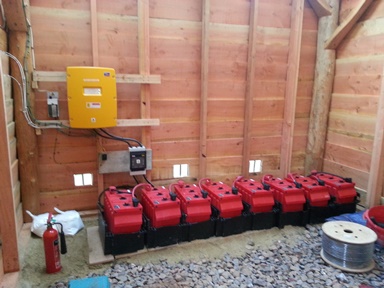 Battery bank and inverter / charger
Whilst the solar panels should cover electricity consumption year round, we installed a smart grid so that a wind turbine or back up generator can be connected if required. The generation and consumption of all parts of the system are displayed and metered so that it is possible to monitor performance. Alarms will be triggered if the batteries run flat or are full (enabling excess power to be used, for example to charge an electric bike).