​
School solar hot water installation
In 2007 we were appointed to install a solar hot water system on a new-build school extension.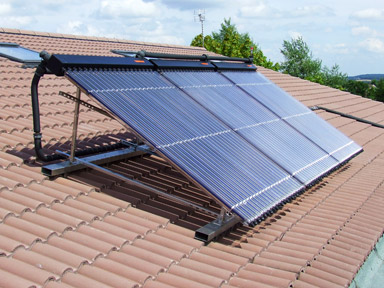 Solar hot water system installed by T4
By working closely with the main contractor, mechanical & electrical contractor, architect and local authority, we delivered a high quality system which met all of the client's requirements. The client is now considering installing more renewable energy systems on schools and public buildings.
The installation of an evacuated tube system on a tile covered low-pitch metal-seamed roof introduced fixing problems which were solved through design of a bespoke stainless steel mounting frame manufactured on site. All pipe-work was carefully installed to minimise the threat of theft and vandalism.
The system is currently providing a significant heat input to the school's hot water system.