​
Solar heated swimming pool
We designed and installed a large solar thermal system to reduce the cost and environmental impact of heating a client's swimming pool.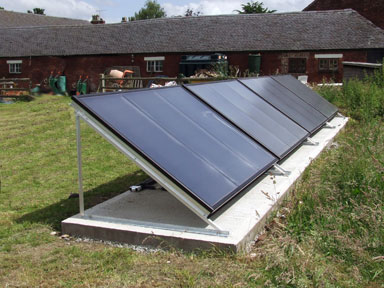 Solar hot water collectors installed by T4
A system size of 16m2 (flat plate panels) was specified to ensure a significant reduction in oil use. Due to the large wind-load seen by the structure, careful structural design and concrete specification was undertaken prior to construction. We also specified and sourced a suitable heat exchanger for the heating system.
The system was installed and tested in one week on site and the client is so happy with the fuel saving that he is hoping to increase the size of the solar array.